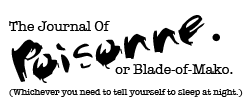 So, I just turned nineteen.
In my province, this means that I'm legal drinking age, which would mean a lot more to me if I actually drank.
Unfortunately, alcohol puts me straight to sleep. I had a half a glass of champagne to celebrate my sending off the coats I did for the 2010 Olympics, and had to go home and have a four-hour nap.
HOWEVER.
My brother bought me a bottle of True Blood.
Which I will be quite happy to drink.

I also had a photoshoot with *
sideshowsito
two days ago now, where I was the most nude in front of the camera that I've ever been. So stay tuned.




My Most Awesome Buddies
(In no particular order. Because being an Agent of Chaos is
Awesome
.)






























Wanna Be Here Too? (Because we have Fun Trapped in my Journal!

)
Well, it'd help if you sent me some PVC or shoes or something, but just dropping me a line'd probably work too. I'm simple like that.